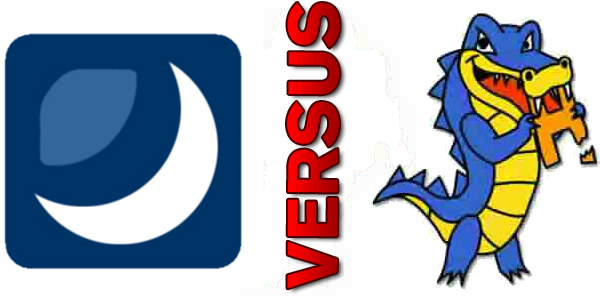 Unbeknownst to most readers, before RigCast became RigCast.com, it existed as "GearTest" over at Tumblr. At the time, Tumblr made sense. Free, simple, and direct. As GearTest grew, and I became interested in pursuing it more seriously, I found Tumblr to be too restrictive with SEO, searches, and the UI wasn't that great. I decided to make GearTest its own entity by migrating it to its own domain. In doing so, I found GearTest.com wasn't going to be obtainable (within my transition timeline), and so, RigCast was born. I snagged the domain, and it was time to find a host. As usual, I did a lot of research.
There is a lot of competition out there, but for me, it came down to two: DreamHost and HostGator. I ended up using them both, and made a decision after migrating several websites to both of them and using their control panels. If you're considering either DreamHost or HostGator, I suggest you read this, as I found a lot of things that no reviewers on the internet even mention. Also, I'll help you get around something that the HostGator "Technical Support" couldn't even comprehend. The findings might surprise you, as they surprised the hell out of me! This is the real truth about DreamHost and HostGator.
I am a graphic designer and intermediate web developer by trade, so I was looking for very specific things out of my hosting company. After I had read all the reviews on the WWW about hosting companies, I decided that HostGator was hands down the best pick out there. I purchased an account and transitioned RigCast from my GoDaddy dev area to HostGator. After using HostGator and cPanel for a while, I started to notice things that really bugged me. Long story short, I ended up paying more for DreamHost, a company rated "F" by the BBB. Why would I ever do that?! I'll tell you exactly why.
1. Subdomain Defaults
Both hosts give you "unlimited domains." Sounds great in theory, but when you actually create a new domain, things can happen very different between these hosts.
At HostGator, every new domain is called an "Addon Domain," and it quite literally is. You first sign up with HostGator with a "Main Domain." When I registered, I used my existing portfolio site as my main domain. From then on, every new domain I would add became a subdomain of my portfolio site. This meant when I created RigCast, it not only became www.rigcast.com, but it was also rigcast.brandonmart.com and www.brandonmart.com/rigcast. In all honesty, this isn't actually HostGator's fault, as it is the default behavior of cPanel. cPanel is the standard web hosting control panel among many popular web hosting companies, that allows you to review your overall hosting account, domains, FTP info, databases, etc. If your host uses cPanel, you're going to get the same aforementioned subdomain defaults. I tested it with some friends who use cPanel with other hosts and the same results were found.
Why is this a problem? Well, technically it's not. As long as you make ABSOLUTELY SURE that you never reference those subdomains in your HTML for ANY of your sites, then the crawlers won't get ahold of it and it won't be seen anywhere. HostGator has a good resource on this topic, especially if you read the comments. For me though, this 'feature' was a deal-breaker.
I am a web designer, so let's say I make a website for Zebralights. When I create the website and host it on a HostGator account, all the sudden Zebralights is forever linked to my portfolio site through zebralights.brandonmart.com. To me, this is very unprofessional. I don't want any of my domains connected to any of my other domains. Advanced developers and DNS power users are probably jumping ahead of me at this point, because…
There is a way around this default cPanel behavior. Of course, don't try asking HostGator's technical support for the solution, because they won't know it. I contacted them via telephone and live chat, and they were not able to recommend any solution. Luckily, I rub shoulders with some very knowledgable developers. All you have to do to remove a subdomain alias is go into your cPanel and find the "Advanced DNS Settings" link. Go in there, select your Main Domain from the dropdown, and then delete all the subdomains from the list that appears. ONLY delete the subdomain aliases created from an Addon Domain, don't just delete all those URLs, they are kind of important. Removing a subdomain alias will remove them from the DNS after propagating occurs, so give it some time. Be careful, after you delete those subdomains, they might not be gone forever. There are certain actions in cPanel which might re-create those subdomains, so tread lightly and check back often if you want to ensure there are no unprofessional subdomains connecting your domains. To me, this raised some doubt about how HostGator and cPanel actually functioned. I lost some trust there.
At DreamHost, they use a proprietary web hosting control panel that does not force subdomains on you. +1 DreamHost.
2. Google Integration
At DreamHost, when you create a new domain, you can easily add Google Apps to your domain. This allows you to get all the functionality of Google Apps (Gmail, Docs, etc) within each individual domain. Not only will you get to use the familiar and usable GMail to check your email for a specific domain, but your email address will also be dedicated to the domain (ie. bmart@rigcast.com). Google Apps is integrated into DreamHost's control panel, which makes it very easy to setup. I'm a big fan of Gmail, so this was a huge deal for me. You get 10 free accounts per domain, after which you have to pay Google for additional accounts.
UPDATE 9-25-2013: Google has changed its requirements for Business accounts, and therefore app integration to a domain is no longer free (ie. yourname@yourdoamin.com). I now recommend using Zoho for free domain-linked email addresses.
At HostGator, you can still sign up and connect your domains to Google Apps, but it is not integrated into cPanel. I found it was much more difficult to accomplish in cPanel.
3. Personal Disk Space
When you look at hosting companies, they will draw you in with the term "Unlimited" quite a lot. As of today, most competitive hosting services provide 'unlimited' bandwidth, domains, and disk space. But wait, how can a company offer unlimited disk space? Well, they do and they don't. Essentially, that unlimited space is LIMITED to legitimate website related material only. That means you aren't going to be storing or transferring large files on your "unlimited" server space, as that is called a file dump and it's against the TOS. DreamHost provides a solution.
At DreamHost, every account gets 50GB of "Personal Backups." This is 50GB you can use for your personal backups from your personal computer, which obviously could also be used to store/move large files if you wanted. This service is free up to 50GB, after which you pay an additional amount per extra GB used. This is a great alternative to trying to sneak around your host with personal files. It is set up through its own FTP server and user, which I find nice since it keeps it separate from my websites.
At HostGator, and every other hosting company for that matter (at this time), there is no personal storage space on their servers for your personal files.
4. Price
HostGator has really good pricing. With a coupon, I was able to get a year of "Unlimited Everything" for $84. That's very easy to pay, and it was a big draw for me.
DreamHost is considerably more expensive. It is just under $120 for a year of "Unlimited Everything" if you pay annually. If you pay for two years, it's closer to $108. If you pay monthly, there will be a setup fee that doesn't exist if you pay annually. Fortunately, DreamHost runs a pyramid scheme of profit for its customers that pays customers for signing on new users with coupons. I'll get to the profiting system later, but essentially DreamHost coupons are everywhere and will get your hosting fees down to around $100 a year. If you know the right person, you can even get your first two years for about $55/year, but those codes are harder to find.
5. Technical Support
HostGator has extremely accessible technical support. They pride themselves in having 24/7 live support via phone, chat, and email. I found it very easy to get in touch with representatives on multiple occasions. For the average user, their support will work wonderfully. For me, it did not. HostGator's tech support lost all of their credentials when they told me that I couldn't delete the subdomains in cPanel because "That's just the way it is," while the subdomains were easily deleted through the advanced DNS settings.  For actual technical support, you'll be better off Googling your issues.
DreamHost is lacking here. To get good live support, you will have to pay more. Instant-chat support only exists for VPS and Dedicated Server customers. Shared Server users can pay extra for this feature. Their main free support is a very substantial dedicated Wiki support site that is maintained by DreamHost employees and customers, and a forum area to ask questions. While I was able to resolve any technical issues I encountered with DreamHost, their Wiki and forum weren't of much use to me. You can also email DreamHost, to which a reply could take anywhere from 1-24 hours. Lastly, there is a 'premium call-back' support feature you can pay for which will get you 3 calls per month for $9.95 extra per month. Yep, $120/yr for live support, doubling your shared hosting costs. NOT worth it. This is a technical web hosting company, these are their support offerings, and they are very, very lame. Time to step it up, DreamHost.
6. Moving Domains
I'm sure both hosting companies offer the standard one-time single-domain content migrations from your old host, but I don't use those services so I have no experience with them. I much prefer to make sure that it is done correctly, and don't typically trust third parties to actively handle my personal data and content. I manually migrated 3 different websites and 1 database to both HostGator and DreamHost.
HostGator was relatively painless to manually migrate to from GoDaddy. If you know what you are doing, it's relatively straightforward. For me to migrate the 3 websites and 1 database took about 6-7 hours, 1-2 of which were waiting for propagating.
DreamHost proved to be more difficult and confusing to manually migrate to. I found that propagation took much longer, although that's not necessarily DreamHost's fault. DreamHost also stores your database on a separate server from your hosting, so those take some time to sync. For every domain I created, the respective FTP took about 1-2 hours to go live as well, which I wasn't expecting. DreamHost took about 12-14 hours to manually migrate the 3 websites and 1 database correctly, 5-8 of which were waiting for propagating and things going live.
7. BBB Rating
HostGator is accredited at the Better Business Bureau and has an overall rating of A+ at the time that this article was written.
DreamHost is not accredited at the Better Business Bureau and has an overall rating of F at the time that this article was written.
I typically respect and agree with the ratings at the BBB, but in this case, it is just a data point that I have chosen to ignore. I have had a much better overall experience at DreamHost as opposed to HostGator, which is all that really matters to me. I imagine most of the BBB complaints with DreamHost are in regards to the lack of Technical Support. If a novice user is unable to get the help they need at the moment they need it, it will prove to be quite a roadblock, and frustrating for the customer.
8. phpMyAdmin Version
phpMyAdmin is what you use to manage your databases. If you are going to use WordPress, you will be using phpMyAdmin.
DreamHost uses an older version of phpMyAdmin. Not only is it ugly and harder to navigate, but it has somewhat reduced functionality. For instance, the new version allows you to Import compressed databases, while the old version does not. Honestly, none of this is a big deal, because the overall functionality still exists and you will rarely access phpMyAdmin, but it is a data point nonetheless.
HostGator has the most up-to-date version of phpMyAdmin. Well, that was easy.
9. Income System
This section is more for DreamHost than HostGator, as I am unaware of any income system provided by HostGator referrals.
DreamHost provides a way for customers to actually make money from referrals. I know of one DreamHost customer who makes in excess of $35,000/yr from DreamHost referrals alone. You get two options. When someone you refer to DreamHost signs up, you can either get:
A one-time payout of $97. Additionally, every person that he/she refers to DreamHost (known as sub-referrals), lands you $5 a person.
Earn 10% on everything your referrals pay to DreamHost, and 5% of what their sub-referrals pay, forever.
You can choose which method you would like to use, and change it at any time. However, once a referral signs up, their specific payout selection can not be changed. So how do you get people to sign up? Well, DreamHost allows you to give out coupons to your referrals to save them some coin. It's a win-win for both parties. The more you discount your referral, the less you make from their signup.
Conclusion
There are many more differences between the hosts, but these are the most important data points to me. Both hosts have their own advantages and disadvantages, and either will work well for the average consumer. My experiences would have me recommend DreamHost over HostGator. DreamHost is definitely not a perfect service, but I have really enjoyed using their hosting, especially when compared to my experience at HostGator. After getting past the initial frustrations of setting up my websites at DreamHost, and digging deep for some patience, the service has been problem-free.
If you have looked at DreamHost, you know that one big thing going against DreamHost is the price. Most DreamHost customers are giving out coupons that maximize returns from the referral, but that doesn't save the referral much money. Instead, I decided to give you more than 50% of my profits to show some thanks for stopping by RigCast:
If you decide to sign up at DreamHost, be sure to use the code RIGCAST50 to get $50 off a year of hosting. That's a better deal than I got at HostGator, WITH a coupon.