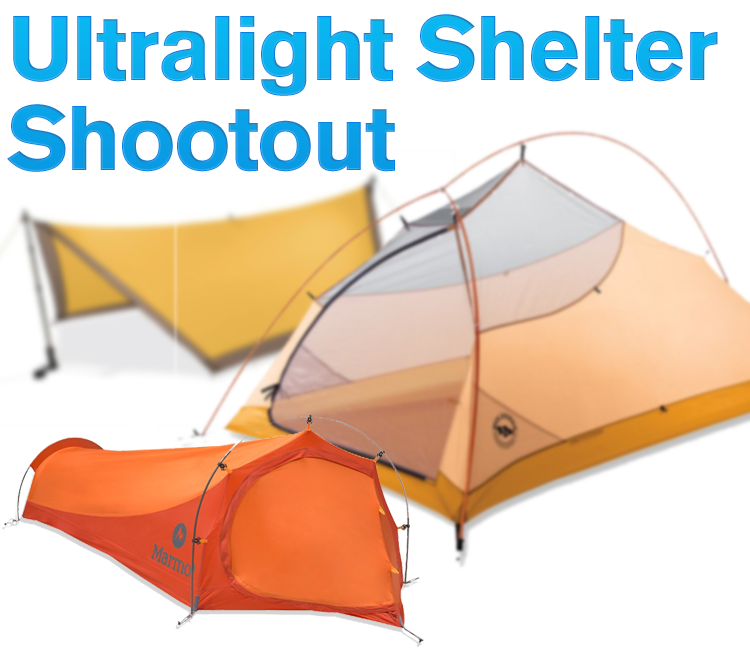 Recently, my Search and Rescue team required me to get some form of personal shelter. I got straight to my research and created a shootout to compare all my options. But first, let's learn what's important when you are in the market for a lightweight shelter system.
There are several different types of shelters, and the following are what I have considered:
Bivouac (Bivy) Sack – This is essentially a 1-walled tent. Typically a bivy sack is nothing more than a waterproof bag, that you put your sleeping bag into. It's made for one person, has very little material, and can be assembled as fast as you can roll it out on the ground. The main advantages are the lightweight, small size, quick assembly, and durability of the floor. You sacrifice shelter for your equipment, comfort, and conveniences like changing in privacy and being able to sit up. Keep in mind, that while they are convenient to set up quickly when a storm is approaching, you should consider if you are even capable of waiting out that storm staring at the inside of a fancy garbage bag.
Bivy Hybrid – Like a bivy sack, this is a simple one-person shelter that shares the benefits of weight, small size, quick assembly, and durability. However, a bivy hybrid crosses into non-freestanding tent territory as it includes 1-3 poles that keep the bivy materials off of you as much as possible. The orange Marmot Home Alone (shown above) is a good example of a bivy hybrid.
Freestanding Tent – This is the most common type of backcountry shelter. A system of cloth and poles constructs a standing shelter that does not require to be staked down.
Non-Freestanding Tent – Visually, this is your average tent. Structurally, this tent cannot stand on its own with just a pole and requires you to stake it out with guy lines and stakes before it will expand to dimension.
Tarp Shelter – These are another ultra-minimalist approach to shelter design. It is nothing fancier than a tarp that is suspended off of the ground for you to take shelter under. They typically have no flooring, and usually, are suspended with the use of trekking or ski poles and guy lines. The advantage here is size, weight, compactness, and simplicity. The disadvantage is exposure to harsher elements, no privacy, and zero isolation from animals and bugs.
So, once you know what style fits your needs, what do you look for in individual offerings?
Packed Weight – We are very interested in the packed weight because this includes all the things the tent comes with. If you plan to use all the features of your tent, this will be the weight in your pack.
Packed Size – It might seem like more of a convenience than an important feature of a tent, but a tent's compressibility is a huge factor when your pack is already going to be full of clothes, water, food, and gadgets. Don't take this feature for granted.
Constructed Dimensions – Will you fit in your shelter? Will your pack? If everything fits, is it still comfortable? These dimensions will answer all of these questions, and determine how livable your shelter is, especially for longer durations.
Now that you know what to look for, check out the shootout below. For a full-page view, click here.