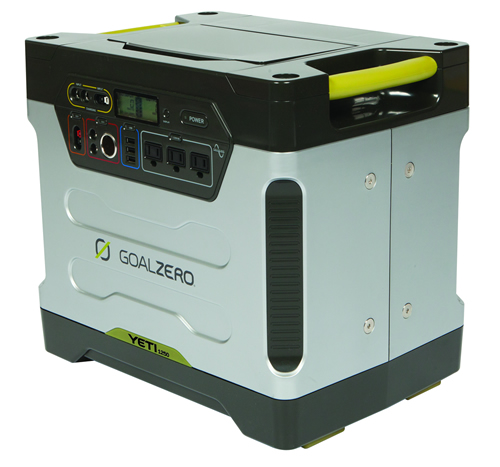 I am so excited about this. Goal Zero is making a solar-powered generator that is capable of replacing gas-powered generators. Unbelievable! Essentially, Goal Zero is just going to start selling a really friggin' huge battery that you can charge with really friggin' huge solar panels. Ya, we're talking a weight of  103 lbs taking up more than a cubed foot of space. Ya, a little venture from the Guide 10 Adventure Kit I reviewed, but it serves a totally different purpose.
The Yeti will be capable of powering a laptop for 30+ hours, keep your Energy Star kitchen fridge cold for ~4 days, and even maintain a chest freezer for 8 days! This thing stores some serious Amperage. You can tap into it via its multiple USB, 12v DC, and AC outlets. I can only imagine that the Yeti will be the ideal solution for emergencies and maybe go-green construction sites, but I can't even fathom rationalizing it for a photoshoot or anything mobile.
The most amazing thing about the Yeti is that it produces more power than is being drawn from it, unlike gas-powered generators. The Yeti will charge in 20-22 hours from solar energy and 16-20 hours from an outlet. Me, I'm interested in trying it out, but the $1500 price tag ($2k with panels) is a bit hard to rationalize for something I'll rarely use.
Still, very drool-worthy. Another first from the great folks at Goal Zero. Look for it in May 2012, and ask RigCast for a 20% off coupon if you're interested in any GZ products.