Motorcycle helmets mean more to some riders than others. To me, it's as necessary to riding as gas in the tank. Two years ago I set out to find an affordable, attractive helmet, with industry-leading safety standards. I did a lot of research at the time, debating colors, ventilation, reflectivity, contrast, comfort, and of course the variabilities between Snell, DOT, and ECE safety standards. At the end of it all, I found that the Shark RSR2 helmet met all my requirements, and it looked like it was going to take off into space.
Here's a quick R3 on my experience with the RSR2 over the past two years.
Research
My initial appeal to the RSR2 was that it met ECE standards, which was a rarity at my local motorcycle store. ECE is a European standard, and I believe that their testing requirements are superior to Snell. The safety ratings for helmets are a large debate in the motorcycle community, and everyone wants to believe that they know best, that their helmet is the safest. I won't be digging into the details, as it is a bit of a tangent from this R3, but I encourage you to do your own research and come up with your own opinion. I would start with recommendations from the well respected Motorcycle Safety Foundation. All in all, they are all good standards, but I chose to trust ECE based on my independent research.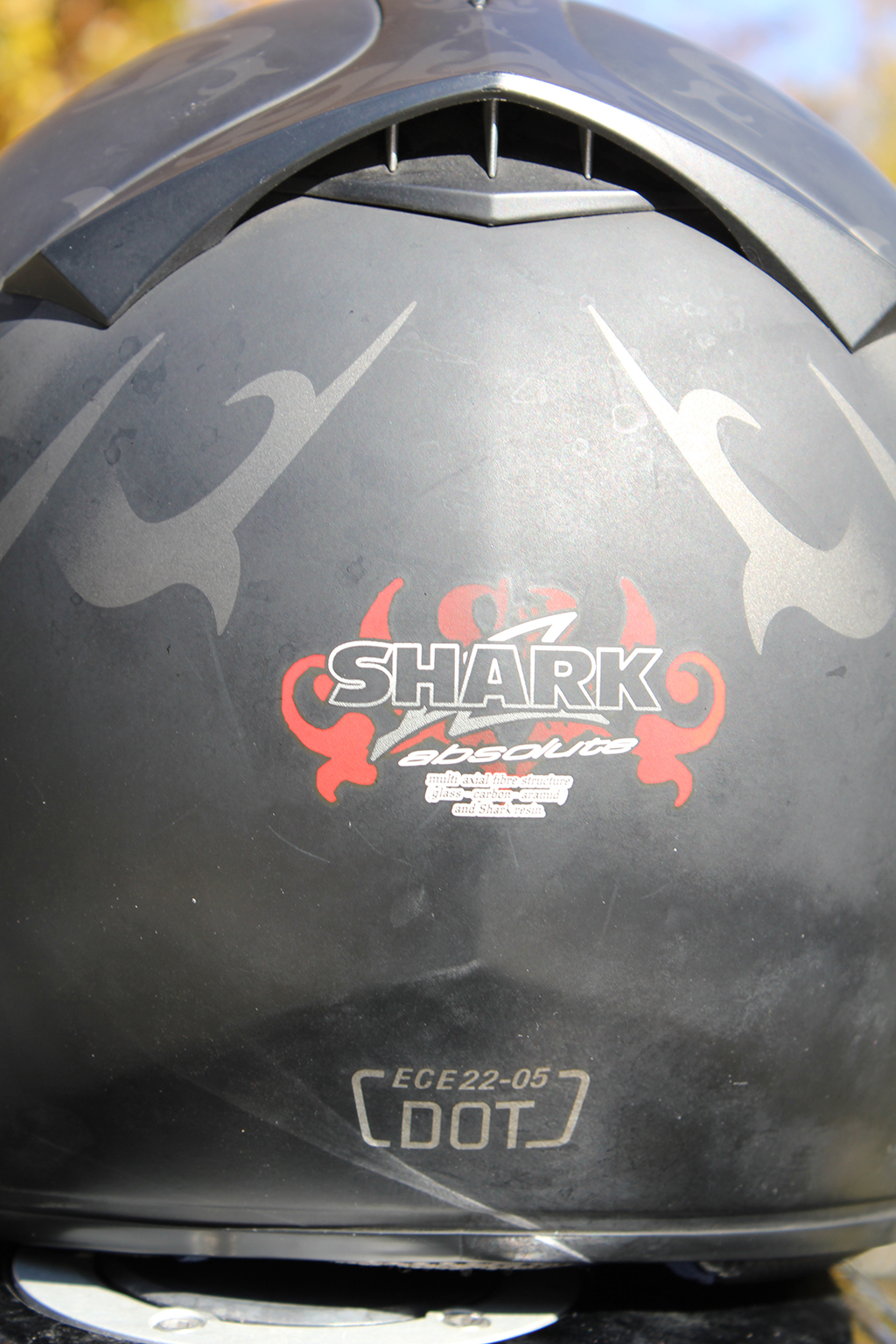 Beyond the safety rating, the rest comes down to personal taste. Colors, comfort, features, ventilation, weight, materials, and accessories should all be taken into consideration when looking at motorcycle helmets.
The RSR2, with its gaping air scoop, appealed to me because I ride in 100+ degrees for most of the year. It also included some standard fares, like exchangeable visors, removable liners, and an edgy appearance, which all helped aid in my decision. Another HUGE plus for the RSR2 is weight. Coming in at 2.84 lbs, it beats most competitors due to its intelligent use of a fiber structure composed of glass, carbon, and aramid, incorporated with "shark resin." I don't know what all that means, but whatever those materials are, it's working for them. For comparison, an immediate competitor to the RSR2 and more popular choice, the Shoei RF-1100, weighs 3.54 lbs. Weight is a big deal because not only is a lightweight helmet more comfortable to wear, but it is less mass and momentum to get thrown around in an accident. The less momentum throwing your head around in an accident, the better.
What really sold me is the comfort. I was trying on helmets for weeks. All different brands, models, and interchangeable pads. I had really come to like the Shoei RF-1100, and the appearance of the Icon's, but the comfort on the RSR2 is what made me throw down. I don't know how they do it, but its plush interior was the best I had tried on. I knew that it was the helmet for me, right when I put it on.
Receipt
Best price: $200
Best Reliable price: $339
CycleGear has it on sale for $339 at the time of this article, which is who I got mine from. Additionally, there is a company called Motorcycle Closeouts that has it on sale for $199. I've never heard of them, so use them at your own risk.
The price is pretty average for a high-end helmet of this caliber. Granted, the MSRP is $599, but it is usually always on sale for around $350. $350 for a motorcycle helmet may seem expensive when you see cheaper ones going for closer to $100, but if you decide to save some coin on a helmet, you will be sacrificing more than just features, you might be sacrificing on build quality or safety. I recommend you get the best one you can afford. Don't go cheap on motorcycle gear, especially helmets.
Review
Two years later I'm still wearing the RSR2. Of all the products I have written about so far, none have been used as much as this helmet has been over the past two years. My motorcycle is my daily driver and seeing how the RSR2 is my daily driver helmet, it has gotten plenty of use in all types of varying conditions.
This helmet has amazing ventilation, but it seems to be either too much or too little. The scoop on the top is functional, but when it is 115 degrees out, I wish it was bigger. In the heat, I can barely feel the breeze inside the helmet and often end up opening the visor slightly to compensate. Still, it allows for more volume than most helmets, so it's definitely acceptable. However, in the wintertime, even with all the ports closed, there is still noticeable and significant airflow. It sounds strange, I know, but what's important is that the ventilation is definitely there, as assumed from the turbine-engine-like hole on the forehead, shown here closed: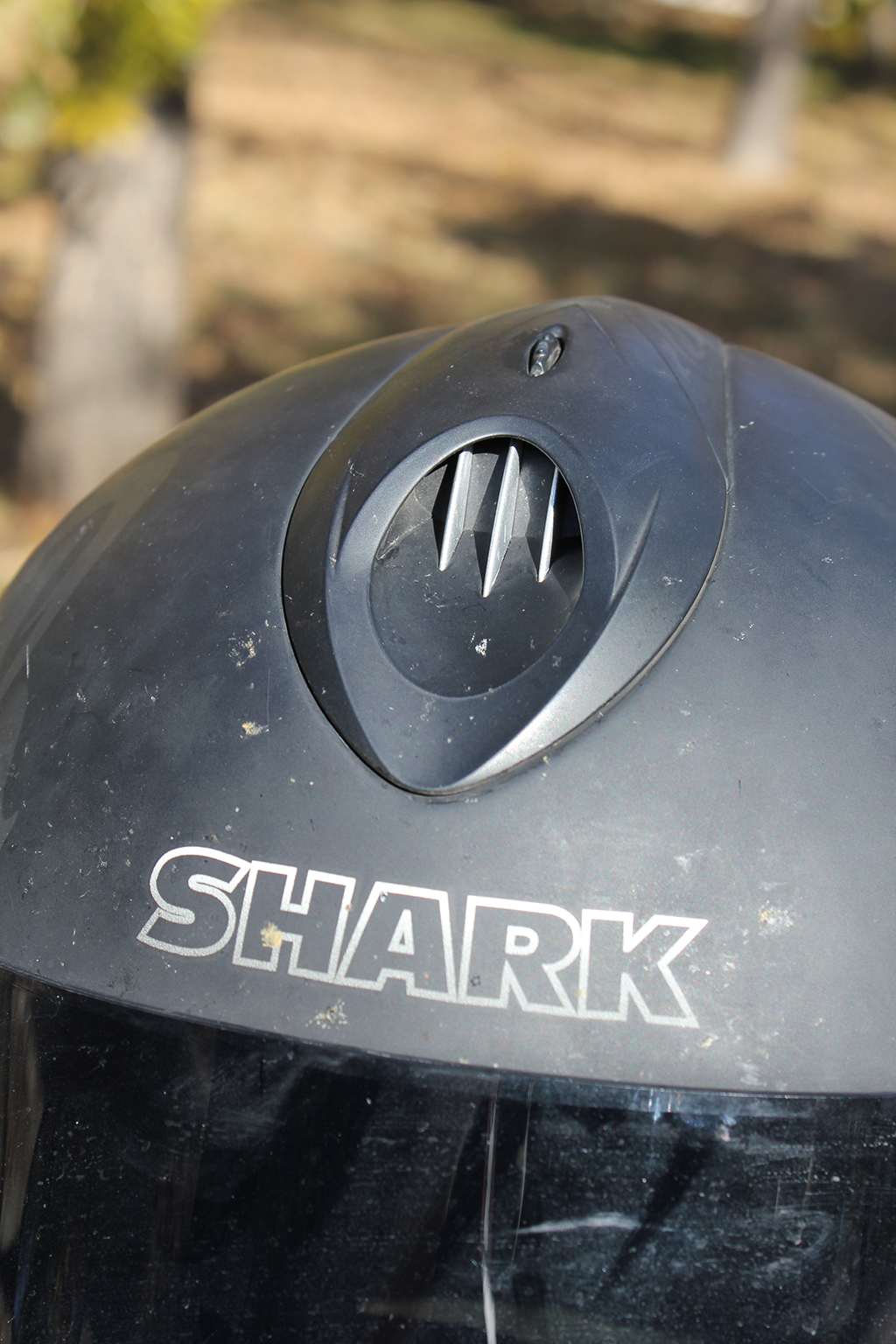 I purchased the matte black version, and love the look and feel of it. The coating is soft and smooth, and the subtle tattoo design accents the helmet well in daylight. Moreover, it seems extremely durable. In the two years I have been wearing it, I can find maybe two deep scars on the entire exterior. Although I have taken fairly good care of it it, and I have never dropped it, it is still amazing that its finish has held up so well to flying debris hitting it at highway speeds over the years.
As previously noted, the comfort is amazing. It is extremely lightweight, and easy to glance around the road without it throwing your head around. Beyond the feel of wearing it, the interior quality is something to brag about. This helmet is mainly worn in hot, dry, Arizona summers, where I sweat in it a lot. Although the interior can be removed and cleaned, I have never once actually taken it out and cleaned it. Today, the interior still looks fresh, and only smells ever slightly like a gym. Ok, maybe "brag" was the wrong word. Regardless, it is just as comfortable today as the day I bought it.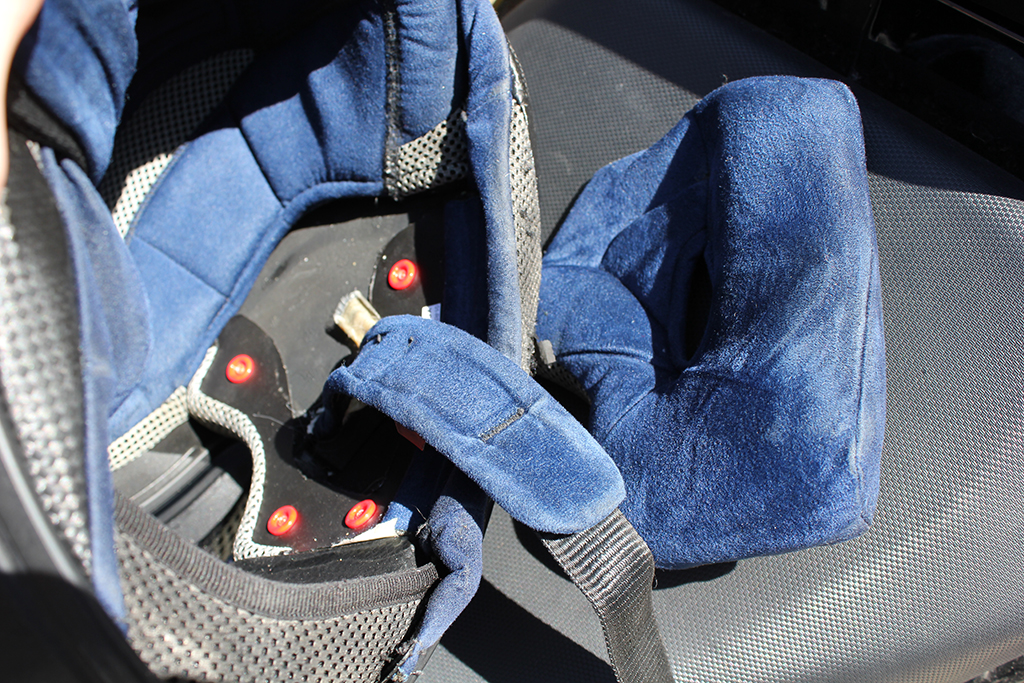 Overall wear on the helmet has been minimal, although it does have some areas that have taken a toll. The first place the helmet started showing wear is the cloth skirt on the bottom of the helmet with the woven-like appearance. This was the first thing to start showing signs of wear, and it started about 6-7 months after purchasing the helmet. Since then, the rate of wear has slowed down drastically since it broke through that material to a stronger one behind it, but other areas have become dried out and started cracking as well. The main cause of premature wear and tear is due to the way I used to wear the helmet.
When I first started using the helmet, I would strap the buckle system tight, but not weave the slack in the strap back through the plastic clip that is designated to hold it. While riding, I noticed that the slack in the strap would fling and slap around and that a piece of plastic on the end of the strap was slapping up against the skirt. This is what caused the wear significantly on one side, and not on the other. Since determining the cause, I have used the clip for the slack, and the excessive wear has stopped.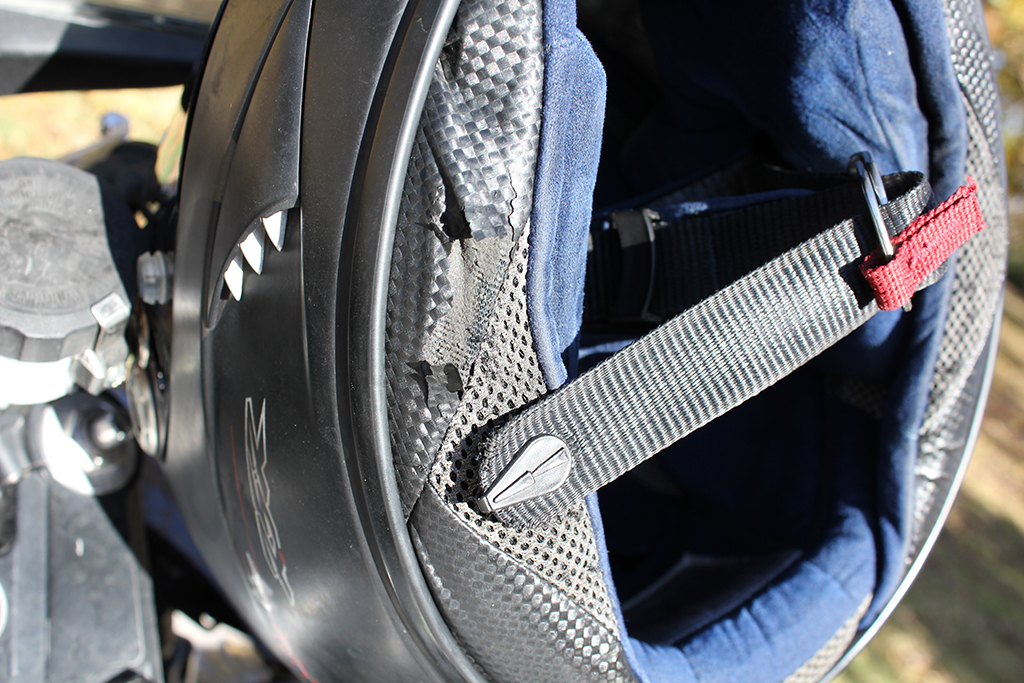 The other main fault I have found in the helmet is in the visor retention system. The visor retention system uses two aluminum screws to attach the mechanism to the helmet, and two prongs in conjunction with a latch system to hold the visor in place. Well, that sounds much more complicated than it actually is. Basically, the two aluminum screws are the fault here. One is visible and easy to access, while the other is located behind the silver button.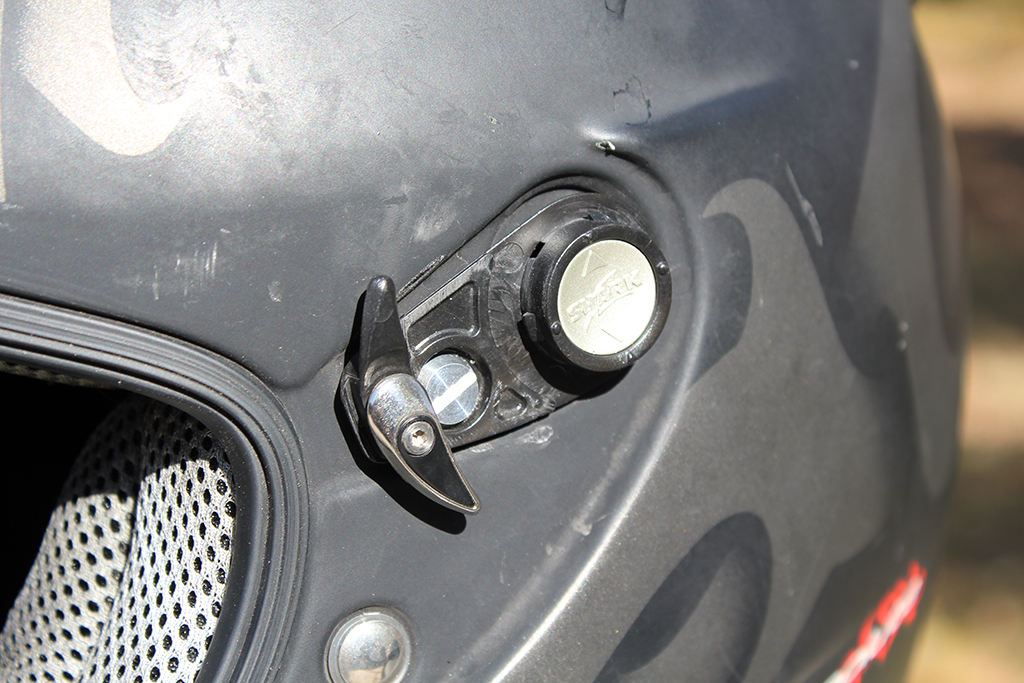 The screws loosen, and when tightened down they are easy to break. I tightened them down once, and one of the screw's head broke clean off, leaving the threaded portion in the helmet. Without tension, the threaded portion eventually fell out, but then I was SOL missing a screw, which made the entire visor useless. Having a loose mechanism on one side allows the entire mechanism to move around and allow the visor to move with it. This can get dangerous when you are driving at high speed looking around for a lane change, and the wind flips your visor wide open while you are looking behind you.
Knowing that Shark is based out of France, and assuming any correspondence with them would probably be confusing and expensive, I irresponsibly rode with the helmet in this loose-visor condition until the problem got so bad that the visor wouldn't seal at all. It turned out that the second screw behind the silver button was so loose that the entire mechanism with separating from the helmet. I emailed Shark, explaining that I just needed a single replacement screw, and I received an obviously Google-translated response asking for my address.
Well, it took about a month to get here from France, but Shark sent me more than just a single screw. They sent me four screws and two brand new locking mechanisms. Best of all, they didn't even ask for any warranty information or compensation in return. I'm sure it wasn't extremely expensive, but the fact that they would willingly send me all that across the planet without asking for anything in exchange says something about the integrity of Shark. Hell, I know domestic companies right here in Arizona that would charge me in a respective situation. Needless to say, I'm impressed.
After installing the new screws, with a bit of Loctite, I haven't noticed any loosening in the past few months. I highly recommend applying some Loctite to this helmet's visor retention system right when you receive it, in order to avoid this whole issue.
The OEM visors for this helmet are pricey but fantastic. At the time I purchased, they were famously the thickest visors available on the market, at 2.2mm. In time, I found them to be very durable. They do not deflect 80mph flying rocks and debris like an impenetrable forcefield, but they clean easily and fog rarely. Speaking of cleaning…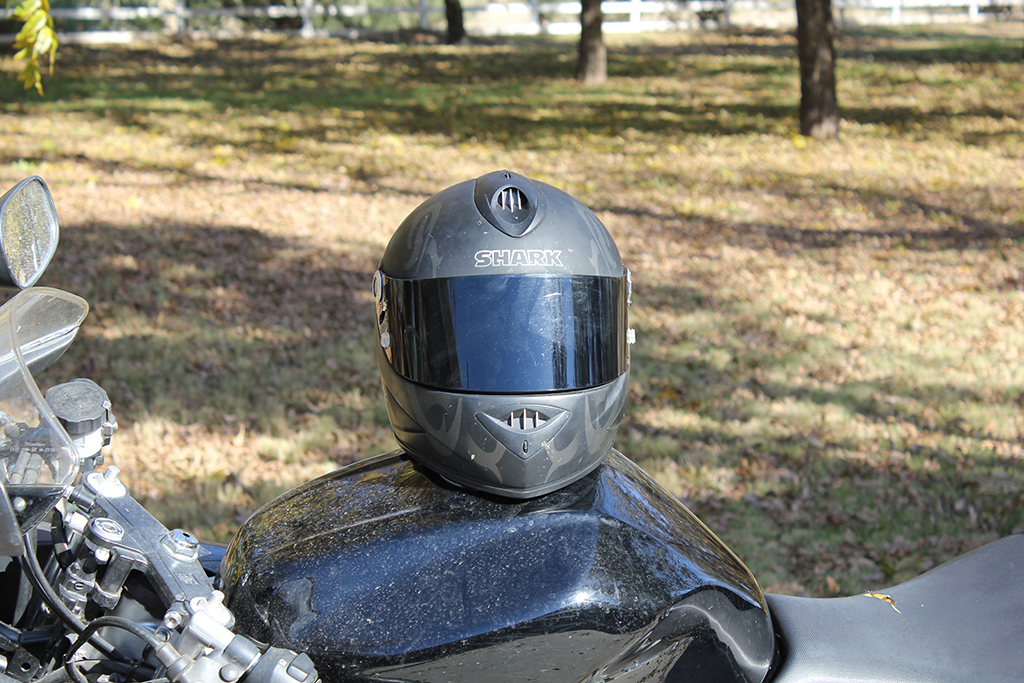 Even after all this time, I still love this helmet and will continue to use it daily. It's rugged, durable, lightweight, stylish, and most importantly it is safe. I highly recommend the RSR2 to all riders, if you can still find them. It appears that they might have been replaced by a newer model on their website, but I recommend taking advantage of the better pricing available from an older model. The RSR2 is still more helmet than you can get from most of the up-to-date selections available today, and I highly recommend you at least try any Shark helmet on before buying anything else.
Well done, Shark.
RigCast Grade: A